Project: Spectrum Chemicals - New Brunswick, NJ
Dealer: Gillespie Corporation - http://gillespiecorp.com/
Wire Partitions Provide Trusted Safety and Security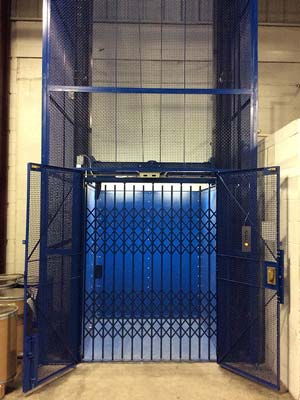 For over 90 years, Gillespie Corporation has been designing and constructing custom elevators, lifts and cranes in some of the most constricted environments. Depending on the type of application, Gillespie often times is required to provide wire partition enclosures for both safety and security of the people working around their equipment. Gillespie's material lifts or vertical reciprocating conveyors (VRCs) are designed for moving any material, palletized loads or freight, to different building levels both inside and outside. VRCs can be engineered so that no shaft or reinforced floors are required. Gillespie provides custom and standard VRCs that are fully compliant with ANSI/ASME B20.1 and OSHA. Every VRC is equipped with instantaneous safety mechanisms. WireCrafters wire partitions are an additional measure of safety and security that allows Gillespie to meet demanding building codes.
Custom VRC Requires a Custom Enclosure
The Spectrum Chemicals project required a custom vertical reciprocating conveyor to transfer materials from floor to floor. Gillespies' Gary West, provided WireCrafters' detailed drawings and worked with the engineering staff at WireCrafters to design a custom enclosure that would fully enclose the VRC. The enclosure for Spectrum Chemicals required an 18' high partition walls on three sides of the VRC.
Because of the extreme safety measures on this project, WireCrafters provided a smaller and more secure 3/4" square mesh instead of the standard 2" X 1" opening. This ensures a tighter opening within the wire mesh panels. At the floor level a 5' wide double hinged door was also provided so that larger materials could be loaded onto the platform via forklift accessing the loading area within the enclosure. WireCrafters also fabricated a steel plate on the door so Gillespie could mount an safety interlock to the door. The interlock ensures that the door only opens when the platform is in place at certain locations within the shaft. Gillespie requested WireCrafters to paint the enclosure with a durable blue powder coat finish to match the VRC.
A Strong Partnership For Many Years
Gillespie Corporation requires wire partitions for safety and security on many of their projects. When asked why they use WireCrafters Gary West replied," We have been purchasing wire partitions and gates from WireCrafters for years and have been extremely satisfied with their products."












To learn more about our Wire Partition or get a quote, please click the image below.