If you're new to the racking world – or you are looking into the latest best practices and systems, then you want to learn a little bit about pallet rack enclosures.
These enclosures are important as you seek to create an efficient storing system, protect your products, and provide a safer work environment.
We took some time to put together some information that will help you better understand exactly what rack enclosures are as well as how and why you should utilize them!
Pallet Rack Enclosures and How to Use Them
 What is a Rack Enclosure? 
Rack enclosures (or pallet rack enclosures) are panels that attach to the backs, ends, and tops of your racks. They have doors on the front for easy access to your inventory.
These enclosures are important for several reasons. They maximize storage space, prevent product loss, provide safer storage, and protect your employees from injury.
One of the biggest benefits pallet rack enclosures offer is they protect your inventory from theft and damage. By enclosing your inventory, you ensure it is only touched by those with the authority to do so.
These enclosures ensure that your product won't easily (or ever) fall due to improper stacking or maneuvering of equipment... but we'll explain more below!
 Rack Enclosures for Maximize Storage Space
Rack enclosures help businesses increase storage space by securing products and inventory on all sides. This means that they can stack more products and stack it higher, without fear of products falling.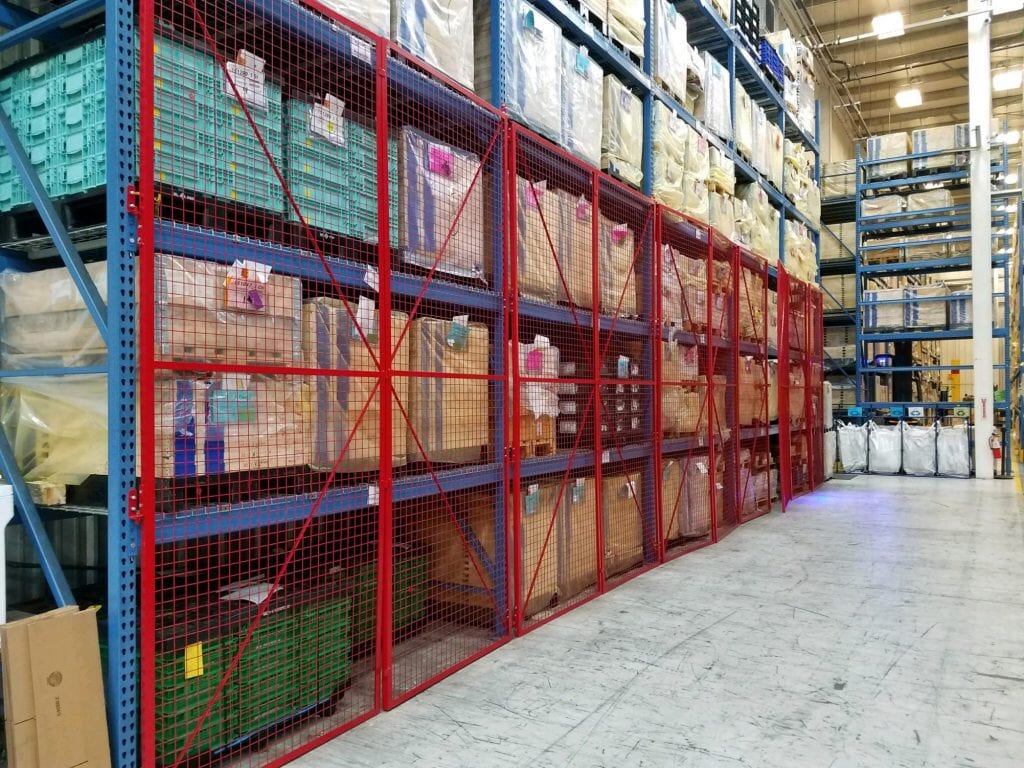 Pallet Rack Enclosures for Preventing Product Loss
Pallet rack enclosures help prevent product loss – from falling, damage, and theft. This benefits you financially. It prevents product loss. With proper enclosures around your products, you protect your valuable inventory and reduce product shrinkage.
Additionally, product damage from falling is a common pallet racking issue that you solve with proper rack enclosures.
Rack Enclosures to Protect Your Employees from Harm 
Falling product safety measures are critical to providing a safe working environment for you and your employees. Pallet rack enclosures create this safe environment, prevent product falling, and give your employees the confidence they need to work efficiently around your product.
About WireCrafters' Rack Enclosures...
WireCrafters panels and doors used with our rack enclosures are made of 10 gauge wire welded in a 2" x 2" square mesh, so you know they are strong. The end panels attach to the pallet rack end with flush mount angle clips.
Back panels attach to the rack with angle clips, and WireCrafters stocks three different mounting clips that allow an offset which ranges from flush mount (or no offset) up to 6". These mounting clips allow your pallet load to overhang, but still maintain inventory security and safety for workers.
Offset clips come in lengths up to 12" long, so you can mount panels between back-to-back rows of pallet racks. This provides a strong and secure wall to two rows of rack.
At WireCrafters, we manufacture enclosure panels the same width as your beam to give your facility optimal security for your products and inventory stored on existing pallet racks.
We offer a Quick Ship option. This means our stock pallet rack enclosures are available to ship within 48-hours of any order we receive.
Let our team help provide you with the product storage and protection you need. Let us know if you're interested in trying out our renown Pallet Rack Enclosure. You can see it utilized by American Express in this case study here. Get your  free quote on this product here.