Project: Amazon Distribution Center - Edwardsville, IL
Dealer: ISS Material Handling - http://www.issmaterialhandling.com/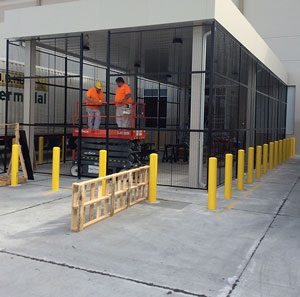 Wire Partitions Needed
The Amazon Distribution Center in Illinois was looking to contain their smoking shelter for their employees on break. There was heavy truck traffic near the smoking shelter where trucks deliver and pick up material. The WireCrafters Cage is keeping the employees safe as well as not allowing any material to get in or out of the cage.
Why WireCrafters?
WireCrafters had all of the necessary components and engineering to make this project work. The concrete had a sloped grade, meaning there would be significant gaps at the top of the shelter if uniform panels were used. WireCrafters stepped up the panels 1" for every 10' to take away this gap. The customer was extremely pleased with the way the cage turned out.
Above and Beyond - Easy Installation
WireCrafters had each panel and post labeled and correlated with the drawing provided. The simple "post and panel" design made installation very simple, which saved both time and money for the customer. With the custom capabilities, cost-savings, and easy installation, WireCrafters was clearly the best choice.





To learn more about our Wire Partition or get a quote, please click the image below.