The Role of Tool Cribs in Warehouse Operations
Tool Cribs are an essential component of successful warehouse operations. We want to share with you the reasons why.
At WireCrafters, you have the ability to build any size or style tool crib with our WireCrafters Style 840 Woven Wire Partition System. These wire partitions are easy to install and do not require special tools to build. They are full-framed wire mesh panels that are built by section, which is unlike other chain-link fences or alternative equipment storage cages. So they can be made to fit your exact operational needs.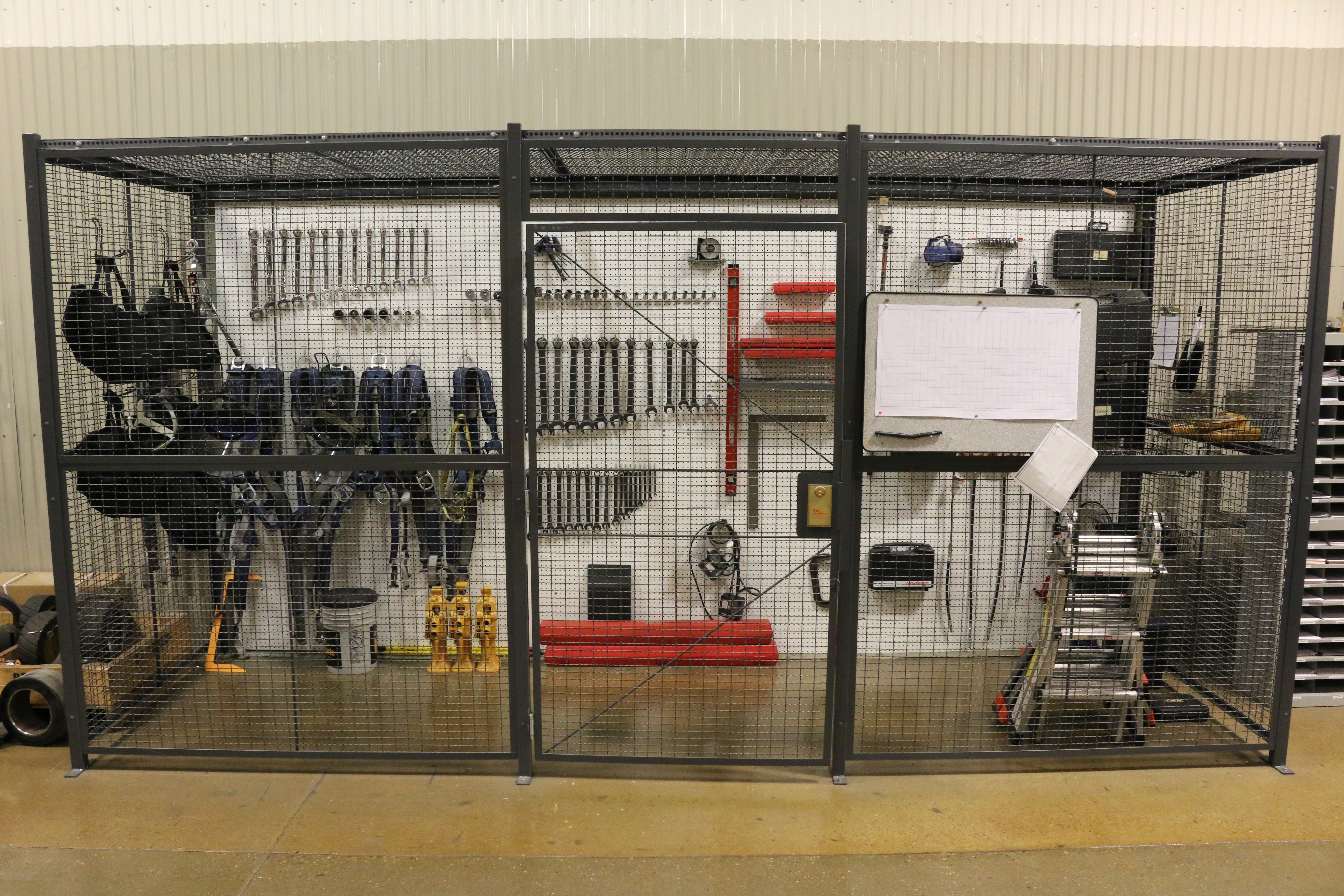 Why Use a Tool Crib in a Warehouse?
One of the most beneficial reasons for using wire partitions for tool cribs in a warehouse is for organization purposes. Tool storage is very important because efficient tool storage prevents the waste of time it can take to locate tools when they are left in an unorganized fashion. In a warehouse, you likely have many other products or resources to store as well. So space is a commodity. A tool crib provides organized space for all of your tools to be easily visible when searching for a specific one. Good tool storage can also help protect and preserve tools. It can even help protect team members!
We believe our tool cribs are also the solution to any worry about tools being misplaced or taken. So the security tool cribs can provide is another benefit. Secured cribs allow anyone, or only certain ones, working in a facility to be able to access the crib as well as the tools within them. With this access, a team member could check out a tool with appropriate documentation. This way you know the last person to use a certain tool.
For maximum security, keypads, motion sensors, and card readers can also be installed to prevent unauthorized users from gaining access to the tools in your tool crib.
Not only are our wire partition panels easy to construct for tool cribs, as well as storage cages, but they are customizable to fit whatever layout or configuration that works best for your space and that fits your ideal system for tool management.
A tool crib's purpose is really in the name. It effectively stores, secures and protects them. Your specialty tools are most likely essential to your operations. So a great tool crib is too.


Construct & Customize Your Tool Crib to Fit Your Operations
The tool cribs we manufacture can be made of welded, woven, and expanded metal panels, sheet metal panels, and polycarbonate panels. Different materials can be selected to meet any security requirement.
Tool cribs can be designed in custom sizes and configurations. We stock 20 different wire partition panels in order to accomplish this. Our panels range from 1-10 feet wide and 4-5 feet tall when stacked on top of each other with a result of an 8-12 feet tall panel.
We can equip tool cribs with ceilings if you'd like, and all ceiling and wall panels can be interchanged. We carry a variety of doors including hinged, double hinged, and sliding doors. A door can be placed on just about any of the panels. The open design concept of our tools cribs and cages provides easy circulation of light, fire suppression systems, and HVAC throughout. These kinds of customizations and thoughtful design ensure that the tool cribs remain a great asset to your warehouse operations rather than creating other obstacles within your facility.
Here's a case study that shares how a tool crib improved the experience for a company needing parts and inventory storage. If you have any other questions about the opportunity for a tool crib in your warehouse or business, contact us here.