December 15, 2015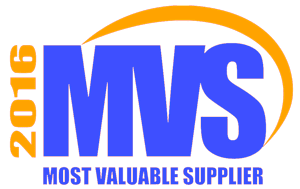 Louisville, KY – WireCrafters has earned the prestigious MVS (Most Valuable Supplier) Award for 2016. The MVS Award is granted by the industry's trade association, MHEDA (Material Handling Equipment Distributors Association). This newly initiated Award recognizes companies who have demonstrated an exemplary commitment to their dealer network, their employees and their community.
To qualify for the MVS Award, WireCrafters® was required to meet a series of criteria in a number of areas important to the distributor companies who do business with them. In addition to confirming an on-going commitment to safety, MVS Award winners have demonstrated an overall commitment to business excellence by documenting programs in the following areas:
• Industry Advocacy
• Distributor Advocacy
• Business Networking
• Continuing Education
• Business Best Practices
"What an honor to be named a MHEDA MVS. This recognition is testament to our commitment to our dealers. We know our business depends on our dealers; they are our partners in the field" said Steve Diebold, President WireCrafters.
"MHEDA members represent the best of our industry; companies that take the initiative and make the investments to be not just good, but great at what they do" said 2015 MHEDA President Mark Milovich of Lift Atlanta, Inc. "Recognition as a MHEDA MVS further demonstrates the member's desire to shine above the brightest stars in all areas of running their business- both internally and externally. MHEDA's MVS member companies are simply the 'Best of the Best'!"
WireCrafters ® is the nation's leading manufacturer of Wire Partitions, Wire Cages and Wire Machine Guarding Systems. Customers have counted on WireCrafters since 1967 for trendsetting innovation that has changed the wire partition and machine guarding industry for the better. WireCrafters® is a family run, privately held business. Our headquarters and state-of-the-art manufacturing facilities are located in Louisville, Kentucky producing products with domestically sourced raw materials. WireCrafters® also operates strategically positioned warehouses in Philadelphia, Pennsylvania and Sparks, Nevada.
The Material Handling Equipment Distributors Association (MHEDA) is the only national trade association dedicated solely to improving the proficiency of the independent material handling distributor. MHEDA represents close 650 companies in the material handling equipment business. Located in suburban Chicago, the association provides services to companies seeking to improve their business through education, networking, benchmarking and best practices. For more information, visit www.mheda.org.