A Comparison of Single High GuardRails and Double High GuardRails
Today we're comparing our Single High GuardRails and Double High GuardRails. They share many of the same features. However, there are several differences to keep in mind as you decide which one is the better fit for your organization's needs.
The Differences between these Guard Rail Products
Different Specs
The most notable difference in these products is obvious in the name. One utilizes only a single rail between two columns, while the other product uses an additional rail. The columns for our single guard rail product are 17" high, where double guard rail columns are 43" in height.
An optional 3' or 4' wide hinged door is only available with the double high guard rail. However, a lift-out rail can be applied to both types.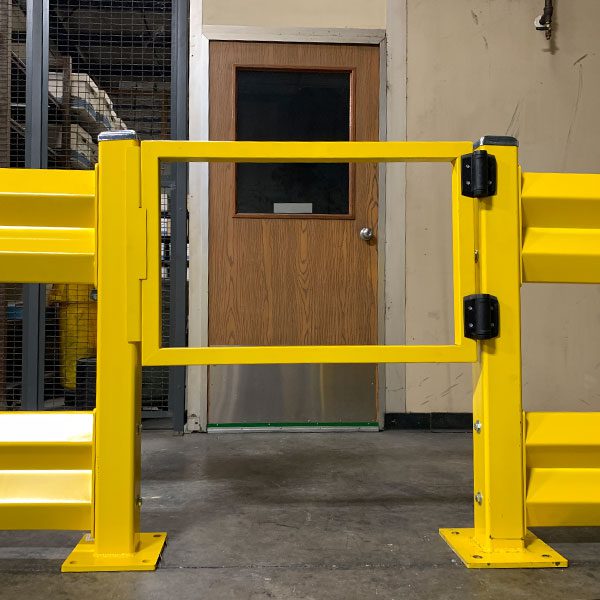 Different Uses
We surveyed some of our LinkedIn followers recently and found that many of them prefer double high GuardRail over single high. We think this is because it's been used more commonly for many years, especially in industrial facilities. The double rails, and subsequent extra height, make it a more obvious physical and visual cue. Think about the perspective of someone in a truck or forklift. This can be very important for safety around large machinery.
However, single high GuardRail is very common in warehouses at the end of racks. It can be used to create a buffer around corners and to separate aisle-ways, so people clearly see where to walk and avoid bumping into materials.
Many times, this use of a single high guard rail is not required by organizations like OSHA. They're just an example of going the extra mile for safety, organization, and the employee experience. Here is a video of our VP of Operations, Rich Horn, showcasing this use of single high GuardRail in our facility.
Here's another application that's familiar to us. We have truck pits in our facility. There are handrails surrounding them, but they're near active aisle-ways. There's a lot of space between the bottom and middle part of the handrail, unlike our GuardRail panels which are wide and near to the ground. We don't want anyone getting too close to the handrail or tripping near it. That's why we reinforce distance from the pit by placing a single guardrail right in front of the handrail. Double the safety!
Don't Forget the Similarities in these GuardRails
Both of our GuardRail products were designed and tested to withstand the impact of a 10,000-pound load moving at 4 miles per hour. Their differing heights do not change their strength.
The rails are mounted to columns with 1/2" x 5" through bolts. All stock rails are powder coated safety yellow. Although columns come in 2 different heights in order to accommodate single versus double rails, all our GuardRail columns are a 4" square x 1/4" wall structural steel tubing with metal caps, and 9" square x 1/2" thick steel base plates.
We can customize our Guardrail products to include more than 2 railings as well. The tallest guardrail system we've provided to an organization so far was 4 GuardRails high! That custom piece of equipment provided a barrier around tall machinery. It was also stationed at a corner that had lots of truck traffic.
For both product types, our 11-gauge formed steel rails come in standard lengths to reach even foot increments, center to center, of each column. Those length options range from 0'-8" all the way up to 9'-8".
These are the sizes we keep in stock. Different standard rail lengths can even be used together as one guardrail system. This video is a good example of that. In it, you'll also see how we use double high GuardRails to protect our product while it's painted on a finishing line.
We can customize your overall guardrail system, but we won't make rail lengths any longer than 9 foot 8 inches because we have to ensure our measurements can uphold our strength standards. If you need a longer safety barrier than our standard rail length options provide, we'll add additional sections to your GuardRail system.
Feel free to take a look at our full GuardRail System Impact Test Report to better understand those standards.
How these Factors Affect Purchasing Decisions
It's best for managers to make equipment decisions based on their safety needs. We know, however, that cost can be a factor. As you might expect, our double high GuardRail costs more than single high because you're getting double the material. Many people still prefer double-high as we mentioned. In many cases it's double the protection! That's something to consider.
Both of these products do well to save you the expense of costly downtime and repairs because they both prevent accidents and damage. Your people and your products are worth it!