Data Center Security - Wire Partition Below the Floor
For cloud computing servers, or any data center containing CPU hardware for two or more clients, typically, wire partitions are used for full security. Simply building a five-sided box over the top of a server may not be enough – some also require the security of a cage extending below the floor for full enclosure and secure segregation.
Data Center Segregation
Our 10 gauge wire mesh partition Server Cages consist of a five-sided enclosure. We take pride in our secure paneled cages, but the real challenge comes into play when securing the bottom vector of your, or your client's, server hardware. We approach this dilemma by installing approximately 12" high partitions under the computer floor to match the footprint of the cage above. Our patented 840-Style posts conjoin to an additional base plate to create a space within which to install the floor for your partitioned data center. By constructing a full coverage floor for your entire data center, you can run cables beneath our secure raised flooring. This prevents all manner of mishap and tampering, sequesters cables, and cords away from feet, spills, and any other hazard to connecting hardware. Fully locked, secure enclosures ensure only authorized personnel can access sensitive computer hardware.
Fully Customizable Partitioning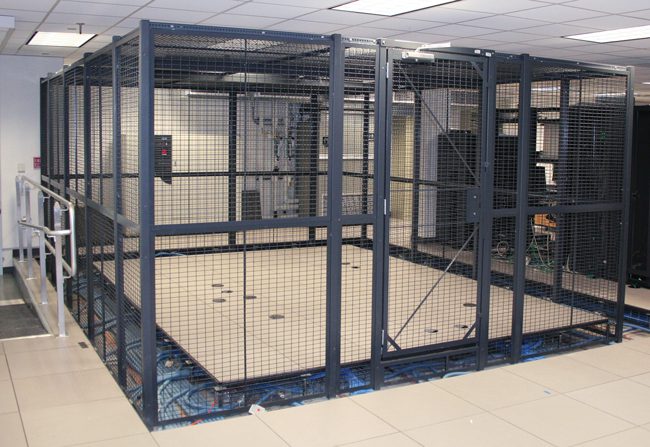 All of our panels and components come in a range of sizes with a full array of fastening components and features specially designed to suit your data center needs with precision and strength for optimal security. We offer a wide selection of standard sized stackable panels that work well in walls and ceilings. Custom sized panels are available in various heights to ensure no space goes unused. Our custom cages can include a wide range of options. Specialized security may include sub-floor meshing, and seismic bracing may be installed to help protect sensitive equipment.
Easy, Clean Installation
Our data center cage installation experts will install your security cage system quickly, leaving no mess - just a clean, strong, safe, and robust cage to store your data systems. Adjustments can be made on site by your own data security systems teams. You can adjust the cage equipment using our modular panel system and customer service. WireCrafters offers many options for your Server Cages. Choose hinged, double hinged or sliding doors. All necessary hardware is included with your order.
All of our doors can be outfitted with basic key locks. For added security, consider keypad locks, self-closing doors, card readers, fingerprint scanners, and emergency exit push bars. We offer eight powder coat colors, and can match any color to integrate with your color scheme should you be using a color coding system.
For more information on our custom data center security cages or to find a local dealer in your area, contact us. Want to jump right on it? Request a quote.
To learn more about our Data Center Server Cages or get a quote, please click the image below.