What Safety Products Does WireCrafters Offer?
Our mission statement here at WireCrafters says, "WireCrafters provides our customers with creative solutions for their safety, security, and storage needs while meeting commitments with exceptional quality by people who care". If you notice, "safety" is the first thing mentioned. That's because safety is part of everything we do here at WireCrafters. Our products are built to protect your team and your products in whatever way best suits the needs of your business. 
So here's a look at some of the safety products we offer and how they can protect your team and products.
RapidGuard II®
The RapidGuard II® is a lift-off machine guarding system that's unique design allows for the removal of the guards (panels) while the fixing system (hardware) remains attached to the guards (post). Most importantly, the system meets ANSI, ISO, OSHA, and RIA safety standards. Some of the key features include a t-slot mounting solution, pre-drilled threaded inserts, and 2″ SQ 14GA posts with 6″ SQ x 1/4″ baseplates. These features keep the barrier secure and allow for customizable options that can fit to your safety needs. 
Machine Guarding Systems
Machine Guarding Systems from WireCrafters are a simple, effective way to protect personnel from the dangers of automated equipment. These barriers are a strong and economical solution to plant safety needs. The versatility of this system allows easy integration of access doors or larger openings with system controls.
Machine Guarding doubles as a safety net by containing malfunctioning equipment. Welded and woven wire mesh is extremely resilient, resists dings, retains shape, and is virtually maintenance-free. As safeguarding standards are tightening, WireCrafters® exists to mitigate potential workplace hazards with improved machine guarding and physical barrier systems. We strive to be OSHA and ANSI/RIA compliant in all our products.
These fully-framed woven or welded wire mesh panels bolt to posts forming a strong, secure barrier around dangerous automated equipment. Unlike high-tech light curtains and switch mats subject to electrical malfunctions, these safety systems are always on guard.
Guardrail Systems
WireCrafters GuardRail was designed and tested to withstand the impact of a 10,000-pound load moving at 4 miles per hour. WireCrafters GuardRail protective railing system helps prevent damage to equipment or facilities by providing a strong barrier along aisle ways or in front of expensive or critical equipment. Our guardrails come in either a single or double-rail style.
RackBack® Products
RackBack® wire mesh panels bolt directly to the back of your existing pallet rack uprights, creating a sturdy barrier between stored items and the ground below. Quick and easy to install, our RackBack® panels provide additional safety and secure stored items from accidental falling or shifting.
Durable all-welded, angle frame, wire mesh panels give constant protection from falling items. In addition, RackBack® pallet rack backing panels prevent spillage while stopping items from falling into aisle ways and protecting personnel while containing inventory. WireCrafters rack protection is competitively priced with less effective pallet rack, netting style backing, and is easy to install.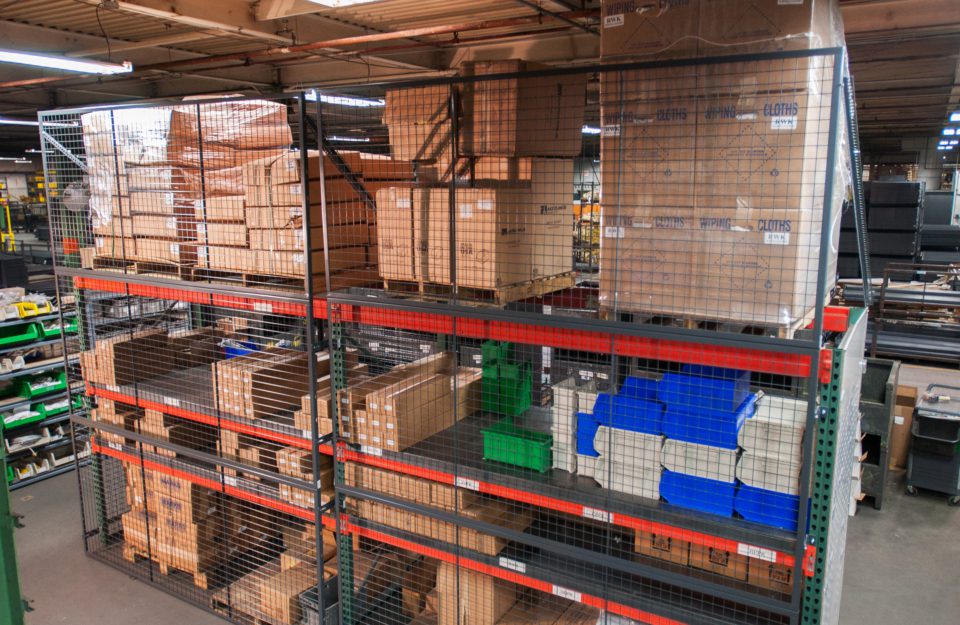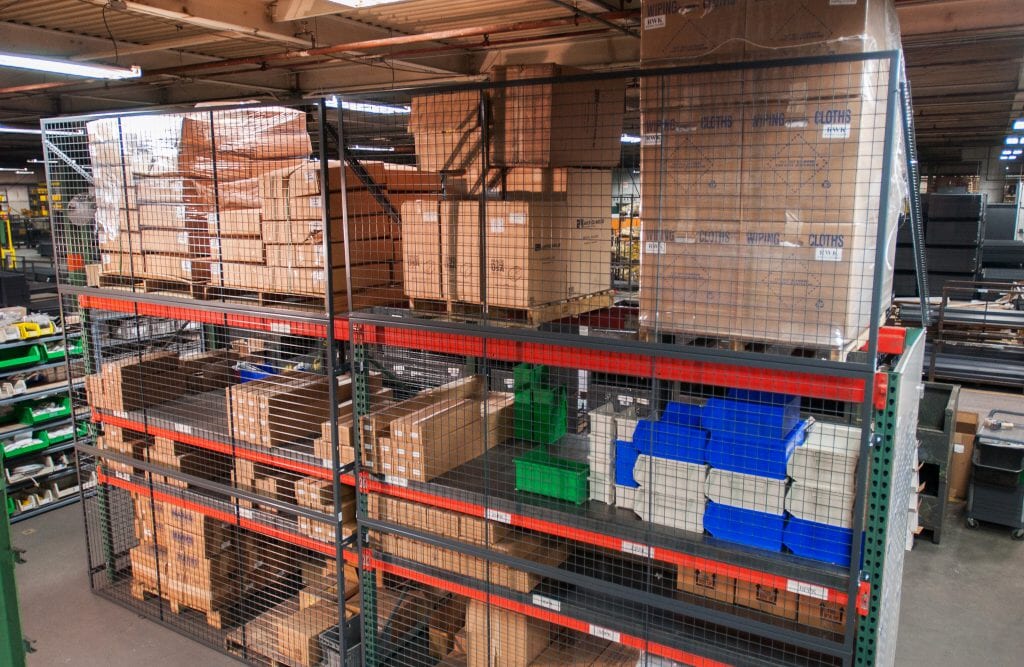 Our team at WireCrafters is dedicated to safety. This means that all of our products are designed to keep your team and products protected. So whether you need machine guarding, racking for products, or guard rails for equipment transportation, WireCrafters has the products you need to get the job done correctly and safely. 
Contact us today to get started!