This April we are excited to be participating in ProMat 2017, held April 3-6 at Chicago's McCormick Place as we celebrate our 50 Year Anniversary! Follow the overhead sign to booth S1852 and join us in a look back at the 50 years that defined WireCrafters.
ProMat 2017 Chicago is the largest expo for manufacturing and supply chain professionals in North America. With more than 850 exhibitors from industry, commerce, and government, displaying their supply chain solutions and innovations, this will be an excellent opportunity for education and networking.
The WireCrafters 50th Anniversary Booth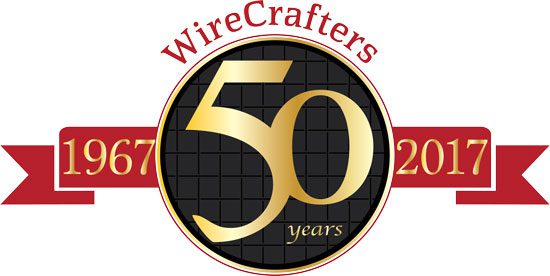 We will be displaying a special WireCrafters cage that features 5 different styles of wire mesh. We have the tight ½" square 12-gauge wire mesh up to the 2" square heavy 6-gauge mesh. In addition, this cage will feature our state of the art powder coat capabilities with a "Gold" finish to commemorate our 50 Year Anniversary.
The 3x7 hinge door will have a 5-button coded access lock on the outside with a full-width push bar on the inside. Our wire partition cage can be used for any type of security or storage.
We will also have a full wire partition enclosure around a bay of pallet rack. Sliding doors on the front of the pallet rack will control access to the valuable inventory within. RackBack and end panels complete the enclosure.
Technician Lockers will also be on display in our booth. We first introduced these lockers at the Modex 2016 Show last year in Atlanta and we had a very good response. These Technician Lockers are ideal for any company that has service technicians who require parts to take to different job sites. Controlling inventory is critical and a Parts Manager can provide each service technician his equipment for the day in his own individual locker.
For many years, wire partitions were simply used for tool cribs and maintenance cages. WireCrafters set up a dealer network nationwide and we listened to their suggestions on how our product could be used. We built a reputation on tackling the custom applications and in many cases, we made the custom an everyday product. See a variety of our custom and stock products at the ProMat show which is quickly approaching!
More about ProMat 2017 Chicago

At ProMat Chicago, you will have the opportunity to learn and network with those in similar fields.
Experience ProMat, and don't miss out on these great opportunities:
Experience the latest innovations from over 950 solution providers
Learn the latest ideas driving productivity in four keynotes and in more than 100 show floor seminars including new town hall style hall sessions on autonomous vehicles and sustainable facility solutions
Build strong business partnerships with suppliers from around the world
See hands-on demonstrations of the latest technologies and innovations
Network with your peers on the show floor networking lounge and at MHI Industry Night featuring comedian Dana Carvey
We are excited to connect with those in attendance. If you plan on coming to the expo, be sure and stop by booth S1852 and see us! If you currently have a safety or security issue in your facility, bring it to us - we enjoy the challenge.