If you read last week's blog, then you are aware that WireCrafters and OSHA have strict safety systems and protocols for machine guarding. To be up-to-code, there are specific aspects of the machine guard that need to be approved, one such important aspect is the locking systems.
Why Are Locking Systems Important For Machine Guarding?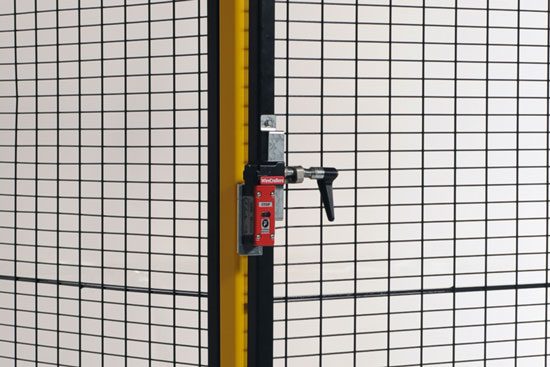 Machine guarding is essential in maintaining the safety and security of the machines and employees. Thus, locks are a vital element in the system in order to assure only the right personnel are within proximity of the machines. Combined with partitions, the machine guarding system works together to prevent dangerous situations that could lead to injury, damage, or an OSHA violation.
There's a variety of locking systems to choose from that WireCrafters carries, such as electrical, battery-powered, mechanical, and latch only. Each has its own benefits and applications. We suggest that when you are assessing your operations processes, take into account how you want your locking mechanisms. Are you going with the most common? The secure Lock Out/Tag Out system or a typical latch system if there's less of a monitoring necessity? Or do you need a more custom lock option?
Electronic Locks
Electronic locks allow for strict access control with a variety of options that best suit your needs.
Here are our main electronic locks:
Biometric Finger Reader & Keypad - activates electric strike or magnetic lock upon placement of finger on reader or by entering the code onto the keypad. This allows for personalized tracking and accessibility.
Coded Card Reader - activates electric strike or magnetic lock upon insertion of coded card. Requires key pad controller for card activation.
Electric Strike - allows hinged doors to open when activated by electrical locking device, which WireCrafters can provide.
Fortress AmStop 24V Interlock - handle-operated safety switch that shuts off power to guarded equipment. The Interlock utilizes OSHA standards for the "Lock Out / Tag Out" system. This keeps employees safe while working near machines so someone can't lock you in with the machine while you're working on it and other similar situations. Our Fortress AmStop 24VInterlock's Lock Out/Tag Out protocol is by far the most common application for Machine/Robot Guarding.
Mag Lock - magnetically locks sliding doors securely closed. Requires electrical locking device, provided by WireCrafters, to activate.
Ten-Digit Key Pad - operates electric strike or magnetic lock upon entry with a four-digit passcode. It is programmable up to 64 different codes, which allows easy tracking of personnel, while still being secure.
Battery Operated Locks
Battery operated locks allow for secure access while still being off the grid in case of emergency.
Here is some information about our battery operated locks:
Adams Rite eForce Keyless Entry - ten digit keypad with lever handle entry. This is a great option for push paddle and push bar exit on hinge doors and thumb turn lever on slide door.
Adams Rite eForce Proximity Reader - This lock activates upon waving the compatible card in front of the reader. It is compatible with a push bar on the back.
Mechanical Locks & Lever Handle Locks
When electronics are not the best option, then the easy-to-use mechanical locks are a perfect solution. Our main mechanical lock is the Five-Button Coded Access Lock. You can use this lock for code or keyed entry. It matches with push paddle or thumb turn knob inside for ease of use while still assuring security.
Our lever handle lock is for machine guarding that does not have strict guidelines, such as for basic rotating or bending machines. Our main lock for level handles is the Master Lock® ADA Handle. It meets ADA requirements & is available with or without a key lock; a key lock front and twist button lock on the back of the unit. Furthermore, if your industrial plant does not need as strict entry protocols for your machine guarding, then mechanical and level handle locks might be more suitable options than the higher security electronic or battery-operated locks.
WireCrafters has experience with many different types and styles of locks for your wire partition projects and can integrate most any type of lock, standard or custom, into our system. Specify the type of lock you would like, and let our design team take care of the details. Our standard locks ship within 48 hours.
Locks are an essential part of your machine guarding system - make sure you have the proper locks for the safety of your employees and for OSHA regulations. Click here to look at our various lock options or contact us and we can have a local dealer in your area help define your machine guarding needs.
To learn more about our Machine Guarding Systems or get a quote, please click the image below.