Whether for law enforcement, pharmaceutical purposes, research, security, evidence, or any other reason to legally store controlled substances, the DEA has set a number of important legal specifications that must be met by any enclosure.
As a leader in the fabrication and installation of secure wire cages for storing everything from machine guarding to data center technology to controlled substances and more, WireCrafters is the expert in secure, sturdy, and safe cages for the storage of III, IV, and V classes of controlled substances.
The DEA Standards for Drug Cages:
All Class III, IV, and V storage areas for controlled substances must provide a high level of security to pass a DEA inspection. Any DEA compliant installation has the following critical features:
Self-closing and self-locking doors
Walls made from No.10 steel fabric or greater with openings no more than 2-1/2" corner to corner, mounted securely on steel posts no more than ten feet apart, reinforced horizontally
Walls mounted to posts one inch in diameter, lagged to the floor
Ceiling of identical materials to panels, or reaching the structural ceiling
Panels mount flush with the floor
 Customization is Key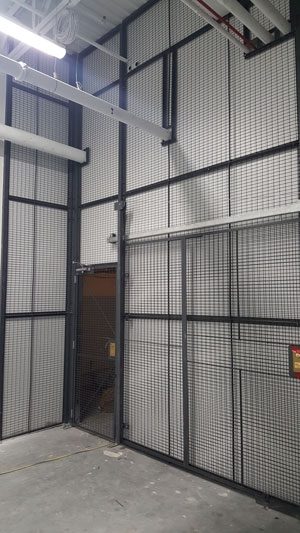 Meeting full compliance requires full custom installation services, because every space where drug cages are installed have specific dimensions and imperfections. WireCrafters' expert wire enclosure fabricators and installers have the expertise and the tools to build a custom enclosure to suit your facility.
While the DEA's requirements for drug enclosures are exact, the needs of our clients vary from case to case. Full customization starts the moment we get the dimensions for your wire partition to ensure your custom drug enclosure will meet the DEA's specifications.
DEA Compliant Locks
The DEA requires that drug enclosures feature doors that close automatically and self-lock. All of the DEA approved drug enclosures we build come standard with doors that are self-closing and self-locking. Choose from a wide variety of lock types from traditional key locks, card locks, encoded keypad locks, or whatever else your process requires.
Full Enclosures Are Vital
Many supposedly secure structures have at least one major vulnerability, such as the ability to be stolen, as with the case of small safes and stand-alone ATM machines or the ability to be toppled, which can lead to unsafe conditions within the cage and damage the contents.
WireCrafters' DEA-approved drug cages are not only fully enclosed, but they can be securely bolted to the ceiling and the floor. They can even be constructed with a wire ceiling, making the base inaccessible to even the craftiest of infiltrators.
The DEA's standards require drug enclosures be secured both above and around with perimeter panels. Accomplishing this requires full custom installation services because every space where drug cages are installed have specific dimensions and location. WireCrafters' expert wire enclosure representatives have the expertise and the tools to build a custom enclosure to suit your needs.
At WireCrafters, our professional metal workers, engineers, and dealers have the knowledge and experience to install your DEA-standard drug enclosure safely, securely with no mess left behind. We guarantee, your enclosure will pass the DEA inspection before it is installed. Request a free quote or contact us today.
You will lock the door at the end of the day with peace of mind, knowing your substances are securely and legally stored.
To learn more about our DEA Drug Storage Cages or get a quote, please click the image below.