The DEA has exact standards for all cages and enclosures used to store schedule III, IV, and V controlled substances. WireCrafters has been an industry leader since 1967 in the field of design, fabrication, and installation of all security and safety cages for a variety of industrial and commercial purposes. Our security cages for the storage of drugs and similar materials will be DEA approved before installation, will meet the standards of customization your company requires and will provide many years of reliable safety and security.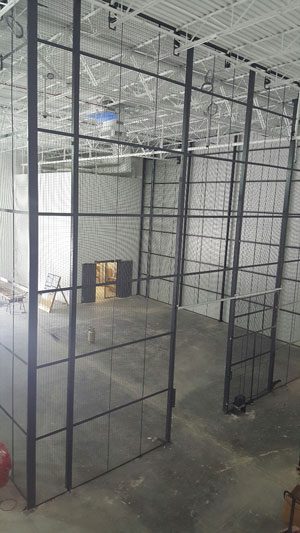 Self-Closing, Self Locking Doors Provide Maximum Security
All of the drug cages that WireCrafters makes to the DEA's and our clients' standards come with self-closing security-hinged doors (as required by the DEA) and self-locking mechanisms to ensure that your stored materials have the maximum level of security available. You can't afford to take chances - that's why WireCrafters takes all the guesswork out of storing legally sensitive substances.
Complete Customization from Top to Bottom
WireCrafters' full customization service means that no matter what the dimensions of the space or where your cage system is to be installed, our experts will design, build, and install your secure enclosure to ensure that your panels are securely bolted to the floor and reaches or creates the ceiling, which allows no gaps and delivers the maximum resistance to tampering and damage. No matter the size, dimensions, or layout of your storage area, WireCrafters will deliver a security wire cage system that will suit your unique needs and eliminate the risk that comes with your business process.
Secure Drug Cages - Built to Code, and Beyond
Flawless adherence to the DEA's stringent standards for drug cages means that your security enclosure will be absolutely secure to the highest possible standard, guaranteed. WireCrafters goes beyond even the DEA's many tough requirements using the time-honored expert fabrication methods, innovative machining techniques, and advanced capabilities that we have painstakingly developed during our nearly 50 years of experience in the industry. In addition to creating the finest security cages available, we also offer a wide range of advanced locks that will ensure only authorized personnel are able to gain access to the contents of your secured enclosure, and only at the times when they are so authorized to do so.
WireCrafters: When Security is Non-Negotiable
You can count on our many years of experience, drawing on our expertise and our wide selection of lock types, door types, and other advanced features to give you that secure feeling that comes with knowing that the controlled substances your company must store are safe behind the strongest federally approved enclosures that the market provides.
Get in touch with our knowledgeable representatives today to find out more about how WireCrafters can take the worry out of legally storing narcotics, drugs, and other federally controlled substances. Want to just get started? Click here to get a free design and layout quote.
To learn more about our DEA Drug Storage Cages or get a quote, please click the image below.