Kohl's Department Store constructed a large 500,000 square foot distribution center right outside of Dallas in DeSoto, Texas. Orders being shipped out of the large distribution center originate from purchases made via Kohl's online store.
Kohl's required a secure inventory storage solution be put in place that would keep all stored items in plain sight while also preventing inventory from being tampered with or stolen. Wire partitions, when used in constructing secure storage cages, limit inventory shrinkage by restricting access to high-value inventory items.
Wire Partitions Provide Security On a Massive Scale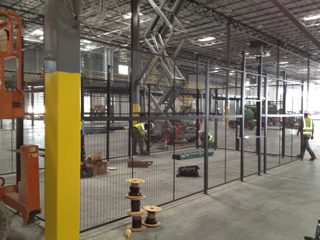 In building a distribution center of this scale, the general contractor needed a local material handling company that could bring in quality materials, provide professional installation service, and complete the project as specified and on time. Storage Equipment Company - a material handling company based in Dallas, Texas - was chosen to provide wire partition cages for the maintenance area as well as the separated high-value storage areas.
Securing High-Value Inventory Cages
In addition to a tool crib and maintenance storage cage, Kohl's required four identical High-Value Inventory cages. A large portion of the inventory kept on hand at the distribution center is very expensive, so each cage was equipped with a 6' x 7' double-hinged door and four custom service windows, allowing for inventory distribution by authorized personnel.
Double-Hinged Doors with Custom Locks
The double-hinged doors were prepped with a Best brand cylinder-less core key lock. Once the secure wire partition cages and doors were installed, Kohl's could then install their own cores into the lock cylinders and the wire partition hinged doors could match the keying system used throughout the entire facility.
Sliding Service Windows for Controlled Distribution
Slide up service windows were 3' x 3' with a full 36" x 18" shelf. The shelf is 9" on both the inside and outside of the cage for ease of issuing inventory or stored parts. To allow these slide up windows to operate easily and safely, two sash balances were installed per window. The sash balances on the wire partition service windows insure that the windows move up and down gradually in a safe manner. Each service window has a padlock lug so the window can be locked in the opened or closed position.
Supplying Wire Partitions & Secure Cages to the Dallas Area
WireCrafters has been working with Storage Equipment on wire partition projects in the Dallas area for many years. In addition to basic wire partition tool cribs, Storage Equipment Company has provided wire partitions for DEA Drug Storage Cages, Server Colocation Cages, and Unit Storage Cages for the Corp of Engineers. WireCrafters, along with our international network of distributors, can provide wire partitions and guardrail systems in the Dallas, Houston, and San Antonio areas of Texas in addition to areas all over the United States and Canada.
To learn more about our Wire Partition or get a quote, please click the image below.