Some areas are out of sight and therefore out of mind to the general public. All too often you will find unsecure and unsafe areas that are just forgotten or not even considered. There are many areas in facilities around the globe that need to be safe and secure from thieves both internal and external to the business. Limiting access to restricted areas or areas that contain valuable inventory can bring huge benefits to corporations. Safety is also key.
Ross Clark Material Handling was asked to help a  large retail grocery chain to control valuable inventory via a safe and secure storage solutions. A sales engineer with Ross Clark was able to supply the customer with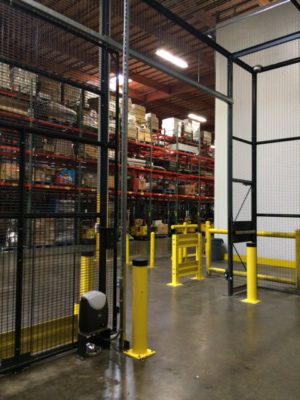 WireCrafters Pallet Rack Back, Wire Partitions and GuardRail to not only keep the valued inventory safe but also secure. Ross Clark started by Enclosing 11 bays of pallet rack up to 10' high in a three level pick module system. They then attached wire decks to the load beams above, sealing off the top of the enclosure. On the face of the Pallet Rack Wirecrafters Sliding Doors were attached directly to the Pallet Rack. By selecting a sliding door configuration the Bi-parting doors slide one behind the other allowing controlled access to each individual bay of rack. This application enabled the grocer to secure all items and have better control of their inventory.
The grocer also required stairway to be secured limiting upward access to only those with keys while maintaining emergency exit with panic push bar hardware on the Wire Partitions Doors.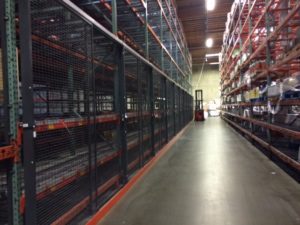 Also tasked with securing the aisle way Ross Clark provided a divider partition approximately 7' tall with a 3' x 7' hinged door placed in the center of this run of wire partition. Small filler panels were then attached to either side of the door and to the pallet rack to secure off the aisle way. An emergency egress push bar was installed to the door to allow employees from one side to exit quickly in case of an emergency. In addition to securing the aisle way WireCrafters provided a large inventory control cage approximately 16" high with a clear span ceiling of 20'.
For more info about Ross Clark Material Handling visit their website at www.rossclark.com.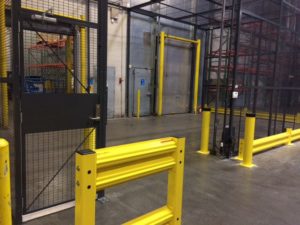 To learn more about our Pallet Rack Enclosures or get a quote, please click the image below.