Customized Space for Aerosol Storage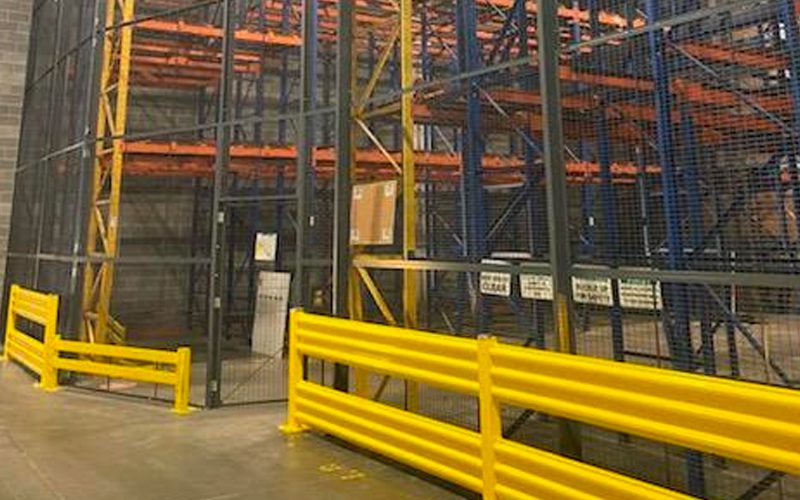 For organizations in search of a safe and effective storage solution, especially for products like aerosol storage, this case study is a good one to reference. It also showcases a custom system that fits a unique area of a warehouse with varying heights. Take a look!
Dealer Name: Carolina Material Handling
Customer (End User): A&M Construction P&G Plant
Product Purchased from WireCrafters: Wire Partitions, Door Options
Problem and Solution
The customer needed to store aerosol cans in a certain area of their warehouse. The aerosol cans present a unique problem if they happen to burst or leak, which could cause an explosion or make the can shoot off like a missile. That would not only mean damage to product and facility space, but it also poses harm to people.
In order to keep these cans in a safe area, WireCrafters partition systems were designed around the pallet rack that housed the aerosol cans.
WireCrafters' 840 series wire partition system was installed as a 3-sided design all the way around the designated area. The end-user and dealer decided to go floor to ceiling with the wire, 31' - 32' high, following the contour of the roofline which is slanted.
The custom height achieves full coverage for that area. This ensures employees are safe from possible exploding aerosol cans.
We also included one 8' wide x 10' high sliding gate and one 3' x 7 swing door. Only qualified personnel are able to get into the system through these access points. It's an example of how our wire partitions also provide access control.
Why Choose WireCrafters?
The dealer and end user selected WireCrafters for this solution because they expressed that we provide the best price, lead time, and also design for a system like this. This partition in the P&G Plant is strong and durable, especially given the unique height of the system. They were also pleased that it was quick and easy to install.
WireCrafters can provide custom solutions for your facility in order to solve any safety and access issues you may have. Many of our products also offer storage, separation, and security value too.
Get a quote now!