Part 2 in a 3 part series documenting the WireCrafters Lean Journey & how it has transformed our business.
Last week we introduced 3 of the key elements of Lean manufacturing (Kanban, Kaizen & JIT), and this week we wanted to highlight 4 Lean principles and how we apply them in our facility.
Nine years ago, Richard Horn came to WireCrafters from Akebono Brake, which is an independent comprehensive brake manufacturer based out of Tokyo, Japan. Rich was brought in to streamline our processes and to increase warehouse efficiencies. One of his biggest contributions has been implementing Lean Manufacturing Principles and the 5 S's.
Simply put, Lean Production is continuous improvement on increasing workplace functionality and decreasing waste, including physical waste or otherwise, such as time and resources.The 5 S's are a work place organization system that stand for sort, set in order, shine, standardize, and sustain.
To this day, these principles continue to help us eliminate wasting time at work, because everything has become exceptionally organized on the production floor. We quickly saw how these principles changed our company from the inside out and we pride ourselves on being a world class manufacturing facility.
You can also see increased efficiency and organization in your workplace by learning how to implement Lean manufacturing principles in your organization. Here are some of our favorite principles of Lean manufacturing and how we implemented Lean principles in our work:
Lean Principle #1: Visualization
Safety is our priority as a manufacturing facility and as a company whose mission is to "provide our customers with creative solutions for their safety, security, and storage needs..." Our warehouse is full of visual clues that remind us to continuously integrate Lean principles throughout our entire shifts in order to promote safety.
We are reminded throughout the warehouse to stop, observe, think, and act, which ensures everyone's safety since there are many moving people and machinery on the production floor.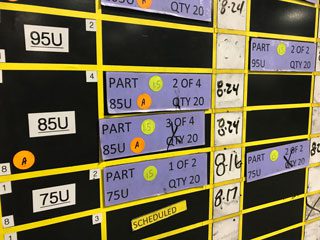 Perhaps our most important visual tool is our Production Control Board where the Kanbans are placed. This board tells us what is in progress when it is due and signifies any delays. If there is a delay, there is room to leave the reason why.
Our Kanbans throughout the warehouse visualize issues that keep us on schedule. The boards facilitate a pull system and regulate our inventory, which keeps everything on schedule. If something is delayed, the reason is documented and put up on the board, which keeps our employees accountable. This allows the employees to take on more responsibility, so instead of going to someone higher up or having to consult computer software, they can go straight to the source of the delay and troubleshoot from there.
Being on schedule is very important to us. If we are behind, or even ahead, we know there is an issue somewhere and our Kanbans allow us to see where the problems are so that we can stay on right on time or get back on track.
To help us visualize how safe we are and ways we can continue to cut down on personal injuries, we have a cardboard cutout of Darth Vader in our break room. He is a visual representation of OSHA injuries that happen at our warehouse. A post-it note with a description of the accident and date the accident occurred is placed on Darth Vader where the actual injury occurred. Lean principles have allowed us to cut down on injuries through streamlining OSHA training and incentive programs.
Lean Principle #2: Continuous Improvement
The most important aspect of Lean manufacturing is the fact that there is always, always, always room for improvement. We use the Kaizen philosophy, another Lean principle, for continuous improvement and recognizing our employees.
When an employee creates a solution, we document this accomplishment on our Kaizen boards by posting a picture of what the problem was and how they solved it. This provides a good reward system, keeps up company morale, and is a great visual reminder to always be thinking about how we can become even more efficient.
This mindset is fundamental to our success. As we continue to improve our processes and work flow, our products and customer service are also being enhanced, which contributes to our world-class manufacturing facility and our 99% on-time delivery rate (but more on that later).
Due to our small lot size, we are able to have frequent changeover, faster turnarounds, and ultimately more sales because of Lean production principles. Our demand-driven system means that we have what you need in store, but never too much and never not enough. This helps us maintain a low inventory level, high customer satisfaction, and excellent return on investment.
As mentioned earlier, we like to reward our employees by encouraging them to bring their novel ideas to the table. Staying on top of Lean is an all hands on deck task. We have to constantly evaluate what processes are creating value and which ones are not, and then disposing of those. Our Kaizen boards focus on continuously improving all of our processes and people.
Lean Principle #3: Workplace Culture
The cultural and managerial aspects of lean are arguably more important than the actual tools or methodologies of production itself.
After the initial implementation of Lean, it took about four years for us to see this cultural change and we are always improving our processes through employee solutions. We love to reward our employees as displayed on the Kaizen boards. We could not make our commitment to exceptional quality without our amazing team and we always celebrate personal wins.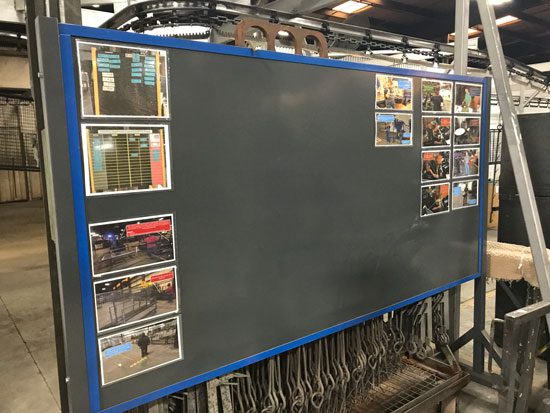 We like to keep our break rooms fun as well. As mentioned earlier, this is where Darth Vader resides.
In addition to a fun atmosphere, we have also implemented an excellent reward system. For example, we like to celebrate meeting QC objectives with monthly lunches. As much as the processes of Lean have enhanced our workflow, it truly is our employees' adoption of these principles that make our company successful.
Lean Principle #4: Efficiency
In our meeting room, there are charts that show us where we've been and where we are going so we can truly look back and see how we have continuously improved! The numbers don't lie and they are very encouraging.
For example, over the last seven years, we have been able to reduce materials that go to scrap in half. We don't know about you, but we think this is pretty impressive.
Our successful delivery rate was mentioned earlier, but with a 99% on-time delivery rate, we want to brag about it some more. We not only create quality products in our world-class manufacturing facility, we can also deliver them to you on time. Our standard configurations of WireCrafters wire partitions are typically two, three, or four-sided partitions with an entry door to the caged area. These basic wire mesh cages are kept in stock for quick 48-hour shipping. You can view Case Studies and Testimonials to hear from our clients why they choose us.
The implementation of Lean is what makes us different. You can be assured that we are always working together on continuous improvement and crafting the best wire partition products in the nation. Keep an eye out On the Wire to continue learning about our processes and products.
If you want to see how our Lean manufacturing can provide you with wire partitions customized for your business, start a conversation today.
To contact us or get a quote, please click the image below.