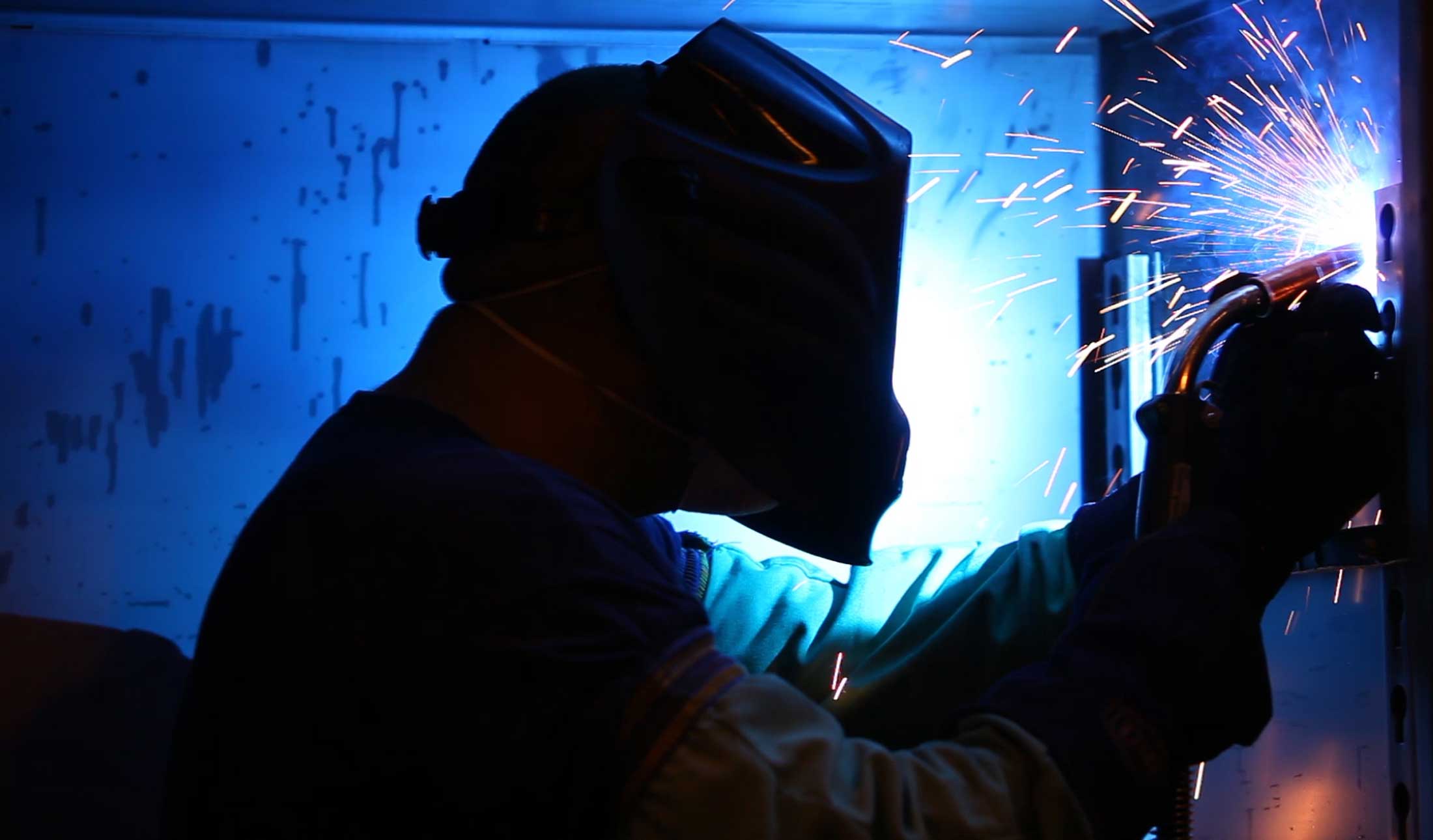 Essential Duties and Tasks
Read and interpret standard production drawings and job specifications.
Weld metal components together into various size metal panels.
Prepare all material surfaces to be welded, ensuring there is no loose or thick scale, slag, rust, moisture, grease, or other foreign matter.
Grind off excess weld and/or rough spots using portable grinders.
Inspect products to verify conformance to specifications.
Assure that all materials and supplies are available as needed in order to promote maximum efficiency for each work process and meet set productivity goals each day.
Detect and notify supervisor of faulty operation of equipment and/or defective materials.
Maintain clean and orderly work area.
Working Conditions
Manufacturing facility/ warehouse environment with moderate to loud noise levels.
Non-temperature regulated facility.
Constant material transport via fork lift throughout facility.
10 hour work days – 4 days per week (Monday – Thursday).
Mandatory overtime depending on operation schedule.
Work alone or with other co-workers.
Steady pace with set productivity goals to be met each day.
Physical Demands
Constant standing, bending, and stooping.
Frequent reaching, lifting, pushing and pulling.
Exerting 50 lbs to 60 lbs of force occasionally, and/or 20 lbs to 50 lbs of force frequently, and/or up to 20 lbs of force constantly to move objects.
Frequent precisely coordinated movements of the fingers and hands to grasp, manipulate or assemble components.
Machines, Tools, Equipment
Mig Welder
Grinder
Hand Drill
Standard Measuring Tape
Other Various Hand Tools
Personal Protective Equipment
Skills & Knowledge
Mig welding experience preferred but not required.
Able to read standard tape measure.
Must be able to read, write and perform basic math calculations.
Strong mechanical aptitude.
High School Diploma or GED
10 Hour Work Schedule
3rd Shift...Monday through Thursday, 8:15pm to 6:45am. Mandatory overtime as needed.
Benefits
Medical-Vision-Dental Insurance, Life Insurance, Short Term Disability, Paid Vacation-Sick-Holidays, 401K Plan & More!
Screening Requirements
Drug Screen, Criminal Background Check
Please stop by our office to fill out an application.
WireCrafters, LLC
6208 Strawberry Lane
Louisville, KY 40214-2900