At WireCrafters, we are pretty proud of our employees. If you've been watching the Mondays with Milt, you'll know that we have a fun culture and talented people. Now we are spotlighting some of our awesome employees! Did you know that some people have been here for over thirty years?
Meet Sandy Asher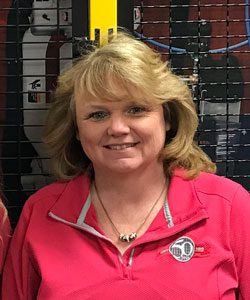 Position:
Sales/Customer Service
What do you typically do day to day?
Quote jobs & help customers with their sales questions.
How long have you been at WireCrafters?
37 Years on 8/8/17
What is your favorite part about your job?
Talking with customers & building relationships.
What is it like working for WireCrafters?
One of the best things about working at WireCrafters is they become family. Over the years we have pulled pranks, teased each other, and "harassed each other" just like a family does. Since I was so young when I started here, I feel like I was raised here and I know some of these people better than some of my own family. I have made friendships that I know will stay with me until the day I die.
Tell us about yourself
I have been married to the "same" man for 35 years. We have twin girls, one son, and 2 granddaughters who are our greatest joy in life. (Yes, even "over" work!) I love baseball, going to the zoo, playing Bunco, and, of course, shopping. I also like taking vacations to new places and being on time or early for everything!
Fun facts about Sandy:
I love to bake for people who love to eat sweets because it is relaxing to me & I use it as a stress reliever.
One of my high school teachers recommended me for this job when I was a senior in high school.
I love looking at the ocean but I don't like vacationing at the ocean because I get sunburned VERY easily.
Stay tuned for more Employee Spotlights soon.