Project: Global Link
Dealer: D.M.I. North, Inc. - http://www.dminorthinc.com/
When most people think of WireCrafters they think of the leading wire partition manufacture in the country… And we are just that… but we do have a few tricks up our sleeve.
D.M.I. North, a long-standing distributor for WireCrafters was aware that we also manufacture tubular steel handrail and superior guard rail products for industrial applications. It's not the sole focus of our business but it is a product we have over 30 years of experience in testing, manufacturing, and working with customers to layout their projects efficiently.
Handrail Slide Doors For Mezzanines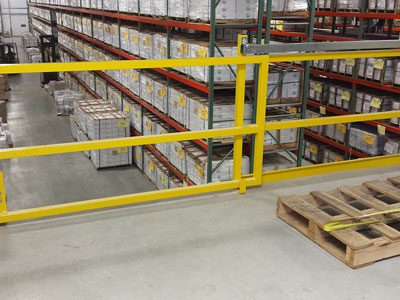 D.M.I. North, contracted out by J.A. Wagner Construction Co., was working on a project for Global Link. D.M.I.'s project required not only handrail and kick plate on a specific mezzanine within the facility but also four sliding handrail style doors.
The 2" square tubing handrail was manufactured in conjunction with WireCrafters standard track and trolleys that are used on their wire partition security cages. The handrail slide doors allowed Global Link access to the mezzanine floor by a fork truck at the ground level.
WireCrafters Provides a Simple Solution
When D.M.I. North was asked why they chose WireCrafters for this project this is what they had to say, "WireCrafters manufactures a great looking handrail that is fluid looking and modular. It is an easy field install and eliminates the awkward looking rail connectors. WireCrafters will also custom cuts the rails to any size which allows us to provide exact dimensions for our installers."
Simple solution, but not all manufactures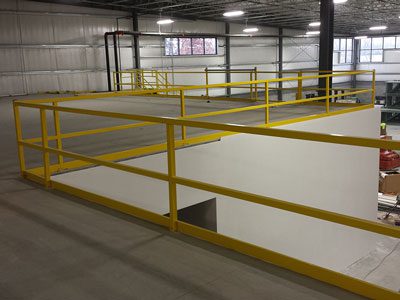 of hand rail would dedicate the time to work closely with their distributor to come up with a plan of action. WireCrafters does and that is why we've been so successful with our Handrail and GuardRail products. Customers trust that WireCrafters will help them out when in a pinch, with the right products and solutions the first time.
To learn more about our Industrial Handrails or get a quote, please click the image below.