Driver Access Cages Contain Warehouse Visitors
Sage Products in Cary, IL began to notice a problem with shipping and delivery drivers entering their building without supervision, having full access to their warehouse floor. The truck drivers entering the building were not only a security issue, but due to the nature of a warehouse and busy shipping areas, these drivers were also a potential safety issue with busy fork truck traffic and other machinery working in the area. A Driver Access Cage was their solution.
If a truck driver could enter the building and have free access to wander throughout the facility, then anyone else could potentially have the same access. This leads to the risk of losing valuable inventory, as well as safety hazards and insurance claims from untrained and unauthorized personnel in the facility.
Project: Sage Products - Cary, IL

Distributor: Container Systems - Westmont, IL
Containing Building Visitors for Safety & Security
Mike Wall with Container Systems of Westmont, IL was contacted to help solve this problem. Container Systems sells a full line of material handling products in the Chicago area, including WireCrafters wire partitions, secure storage cages, and condominium storage lockers.
Mike suggested a WireCrafters Driver & Building Access Cage to contain truck drivers and building visitors to a confined area away from their inventory, while also keeping them safe from warehouse traffic and machinery.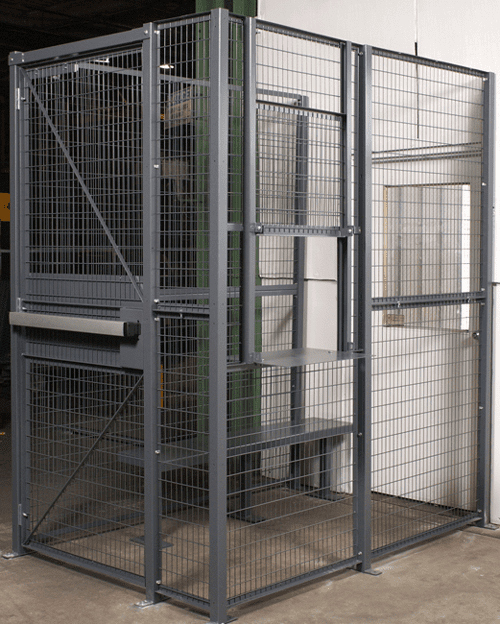 WireCrafters Cage Design
A typical Driver Access Cage (or Man Trap) is approximately 6 x 6 x 8 high. In most cases the controlled access cage is a three sided cage with a ceiling that butts up to an existing building wall.
When a delivery or shipping driver enters the building from an existing door, the driver is enclosed inside the cage, preventing them from walking through the facility. Most Driver Cages are equipped with a service window with a shelf where the driver can sign for his shipment and transfer other paperwork to warehouse employees. Although the wire partition cage does have a 3 x 7 hinged door, the driver does not have the ability to open the door. The driver remains in the building access cage.
Doubles as Employee Entrance
Sage had WireCrafters add an electromagnetic lock to the Driver Access Cage inside door that would work with their existing card readers. This allowed Sage's Employees to enter through the exterior door, swipe their employee badge or card on the electromagnetic card reader on the inside of the Driver Access Cage, and enter into the secured warehouse area.
On the warehouse side of the Driver Access Cage's door, a full width push bar was installed for quick exit. This full width push bar allowed employees to exit the work area at the end of their shift without having to use a keycard, or in case of emergency requiring them to leave the area quickly.
WireCrafters Driver Access Cages - Safety, Security, and Separation
Mike Wall of Container Systems was asked why he chose a WireCrafters Driver Access Cage for this project, to which he replied, "The choice was easy - It's the best security partition system on the market."
To learn more about our Driver Cages or get a quote, please click the image below.