7 Places You Can Find Wire Security Cages
It goes without saying that the safe and secure storage of valuable property is crucial for most companies. Protecting critical supplies and materials from loss, damage, or pilferage requires both a culture of awareness and the right kind of security equipment.
Wire mesh security cages and partitions, used in a variety of applications to protect inventory, reduce shrinkage, and increase safety, are an ideal solution for creating secure space. Wire cages are a cost-effective and more secure alternative to conventional chain link fencing, but are more versatile as well. They can easily be removed, relocated, and reassembled due to their modular design.
The biggest benefit to wire security cages is their unmatched ability to drive all-day, every-day protection and security.
Let's examine the various types of security cages and partitions as well as a few of the places you can find them:
Manufacturing & Distribution
Wire partitions and cages are excellent security and safety measures for industrial operations, including warehouses, manufacturing facilities, and distribution centers.
With cargo losses exceeding $30 billion worldwide (and $10 billion in the United States alone), it's critical to have a theft prevention strategy in place. Security partitions, cages, secure storage lockers, mini security cages, etc. are all good ways to protect valuable cargo until it can be shipped, processed, or stored. Many companies utilize these systems as standalone cages, while others use them to limit access to storage areas as part of an overall security program. Others secure only certain, high-value inventory in their cage systems. Examples of this may be tobacco products in a grocery distribution operation, or small electronics in an online retail warehouse. The point is that companies can tailor a security cage system to be as large or small as needed for their security program.
Driver cages are used to control who has access to inventory and shipments. When companies use these systems, they are controlling outsider access to their storage areas. This means that truck drivers, salespeople, service technicians—and flat-out intruders—can't access the plant without someone admitting them. This can also increase safety, as these untrained individuals are stopped as they enter the facility and can't enter forklift lanes or access potentially dangerous machines without being admitted.
Stock Rooms
Due to the secure visibility they provide, wire security cages are also frequently used in stock rooms. Wire mesh wall and ceiling panels make it easy to identify, access, and retrieve items, and woven wire provides for secure storage at all times.
Data Centers
As more facilities use multiple computer network servers in data centers, it becomes increasingly critical to limit access to equipment. Wire security cages provide companies across industries with network security and proper ventilation for machinery.
In many data center applications, partitions are erected at entry points, but also in server rows so that only technicians can access specific servers, power sources, and other critical equipment. This allows mixed access.
Many of these colocation applications utilize advanced security features like biometric entry, code card readers and other advanced locking systems.
Retail Space
For many retail operations with valuable inventory (tools, firearms, jewelry, etc.) protected only by glass storefronts, wire security cages and partitions can be a viable way to add a layer of protection from quick-strike thieves.
They can be built into a variety of configurations, fit with any space needed, and specified with locks ranging from padlocks to biometric locks.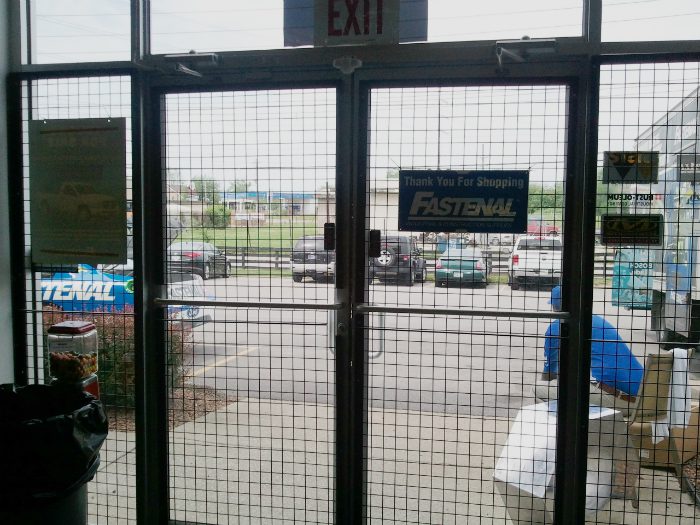 Offices
In an office context, wire security cages can be used to secure areas such as records storage, computer equipment, or any other restricted areas. Wire mesh security cage panels bolt together easily and provide for a clean, attractive look in an office environment.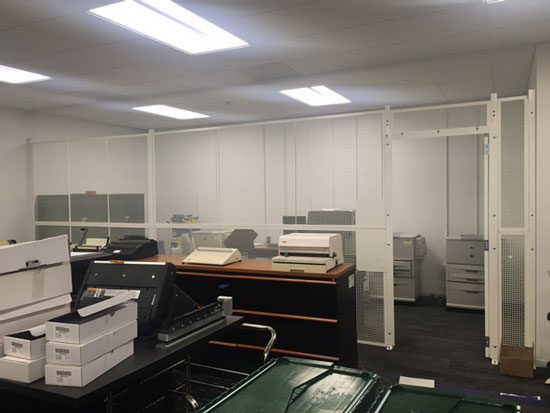 Drug & Pharmaceutical Operations
Compliance with Drug Enforcement Agency regulations for in-plant security of controlled substances presents recurring problems for drug manufacturers, distributors, and wholesalers.
Wire partitions help solve this problem. Properly installed security partitions meet D.E.A. requirements for physical security of Class III, IV, and V controlled substances as outlined in Section 1301:72 of the Code. These compliant cage systems are seen in the pharmaceutical manufacturing sector as well as distribution. Frequently, they are used for secure controlled substance storage in evidence storage applications as well.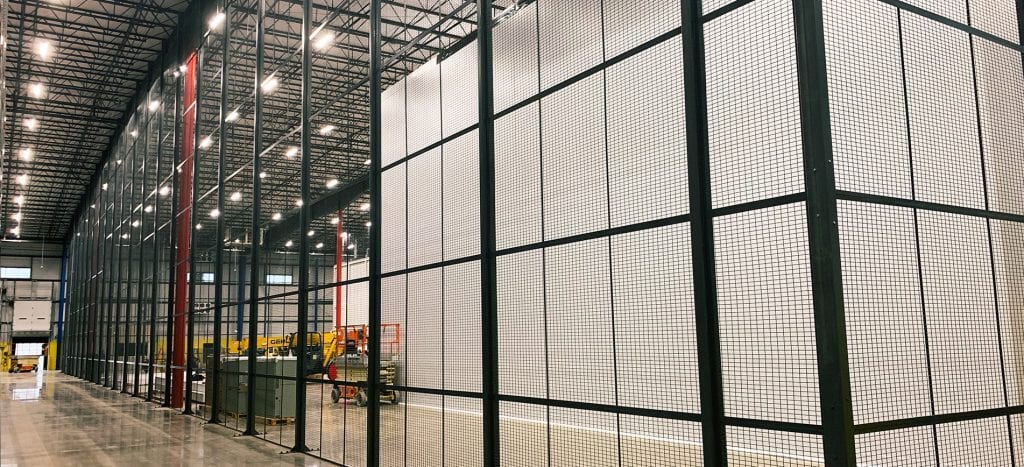 Holding Cells
Wire security cages are also used as a solution for temporary or permanent minimum-security holding facilities. Ideal for prisoner holding cells, jails, police stations, campus security offices, correctional/detention centers, airports, public arenas, fairgrounds, and other areas where detainees must be held, wire cages are used by local, state, and federal law enforcement agencies, military police, and civilian authorities.
Final Thoughts
Wire mesh security cages and partitions can help to reduce pilferage, protect inventory, and increase safety for a variety of applications (warehouses, data centers, storefronts, offices, etc.).
But it's more than that: Having security measures like these in place offers the peace of mind to drive a more efficient and productive operation overall.
To learn more about our Driver Cages or get a quote, please click the image below.
To learn more about our DEA Drug Storage Cages or get a quote, please click the image below.


To learn more about our Data Center Server Cages or get a quote, please click the image below.